 Our customers design systems & subsystems that include safety critical embedded software such as engine controls, ADAS, GPS, autonomous driving, and more. They are typically Tier 1 and Tier 2 suppliers to the automotive, aerospace, and defense industries.
Challenge faced by our customers
Developing such critical systems requires
Advanced skills linked to industry standards and cutting-edge methodologies
Variable development throughput linked to product development cycles
Producing these activities within ever shrinking budgets and development schedules
In support to our customer, CS Canada provides
Functional Safety Office and independent quality department

ISO 26262 TÜV-SÜD certified functional safety experts
Independent ISO 9001 QMS for ASPICE compliance

Automotive systems development expertise

ISO 26262 & ASPICE Training and Gap Analysis
ISO 26262 Functional Safety Planning and concept (Item definition, HARA, ASIL Determination, Safety Goals and Safety Cases, …)
Embedded software development and testing (Manual Code or Model-based Design)
AUTOSAR
Cybersecurity (J3061 & SAE 21434)
Formal Methods
SOTIF and Automotive Systems Engineering (requirements, controls dev & validation)

A significant and on demand engineering capability

Onsite consultants / experts, or
Remote turnkey program delivery with 200 engineers in North America, 200 Offshore (Romania and India), and a pool of expertise with 400 in France
With flexible business models to meet your expectations (T&M, FFP, …)

Advanced test tools to speed-up and lower ongoing costs of the activities

LEAFS (CICD tool agnostic plarform)
ATLAS & NADIA (test cases and test scripts generator based on NLP and ML)
Test Benches (HIL, SIL, Processor in the loop…)

After-market

Embedded software flashing
Advanced Diagnostics for Plant Floor and Infield applications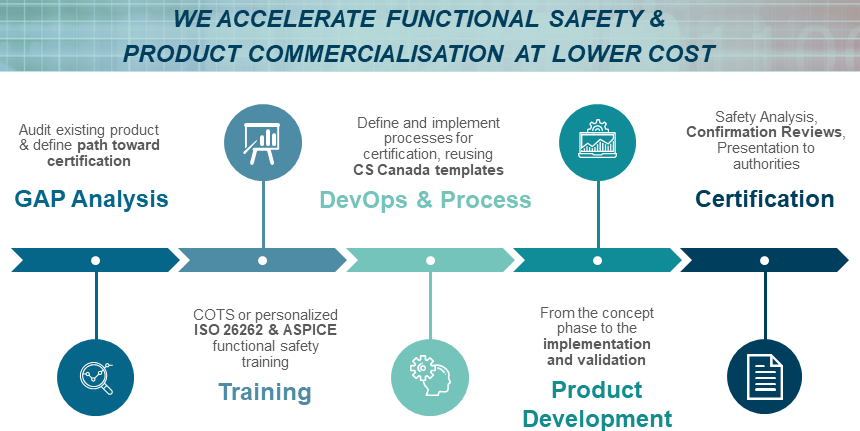 We have been involved successfully for more than 15 years with the most demanding and the highest level of critical systems in the aerospace industry with jet engine controls within DO-178C Level A certification with the largest OEMs in North America. We also partnered with experienced industry leading experts within the automotive standards and we can now provide the automotive industry the same level of quality and efficiency that is required by the aeronautics industry and that the new challenges linked to autonomous driving now demand.
This expertise is now available at your service!