Leading Edge Automation for Functional Safety

Mission-critical embedded systems makers (ISO26262, ARP4754A, DO-178C) work in competitive environments, demanding ever faster time-to-market without ever compromising safety. Agile and CICD (Continuous Integration and Continuous Delivery) benefits are not to be demonstrated anymore (quality, efficiency, and safety) but the latest studies show that many companies are still missing one crucial step. Their toolchains are not integrated to each other and human intervention is still required to unleash their full potential.
Our Solution, a CICD tool agnostic platform
Based on 20 years experience developing and validating safety critical software, CS Canada has invested in the creation of a continuous integration and delivery platform that is scalable, 100% customizable and easily maintainable. With an impressive DO-178C and ISO26262 certification track record, LEAFS can be safely deployed today on your project.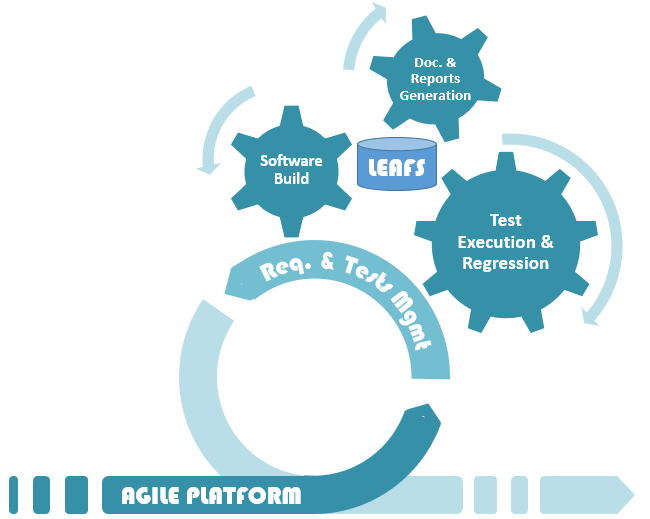 LEAFS (Leading Edge Automation for Functional Safety) is designed to be quickly integrated with existing environments and already supports many COTS tools widely used in our industries. Built on a modular architecture, LEAFS supports among others:
Requirement and project management tools (Jira, Helix ALM…)
Configuration management tools (SVN, Git…)
Development and test suites (Scade, Simulink SLDV, LDRA, VectorCast…)
Our solution has been built from the ground up to integrate with what is already in place and allow you to finally use your tools to their full potential. It is not longer required to change all your habits and processes or migrate to a new platform. LEAFS works behind the scenes to improve team's productivity along with product quality. Development and testing activities will be automated, repetitive tasks will be eliminated and your teams will be able to focus their efforts on high value-added activities.
For even greater benefits, LEAFS is qualifiable under DO-330 or ISO 26262 and will take care for you of:
Documents generation and release
Software build
Change impact and regression analysis
Scheduling and test campaigns execution
Test report generation
Request a demo today
See how LEAFS can benefit your product development programs
We have 20 years of experience with the highest and most demanding level of critical systems such as jet engine controls in the aerospace industry (DO-178C) or ADAS systems in the automotive industry (ISO 2626).
LEAFS was created to solve our challenges and is now available to you!