With the advent of Advanced Driver Assistance Systems (ADAS) and Autonomous Driving (AD), an automobile today can contain up to 200M lines of code (+500M by 2025) with interactions between over 150 control units. This considerable number of interactions combined with the complexity of the functionality being implemented significantly raises safety concerns. To address these concerns ISO 26262 was developed for the automotive industry, and it defines a framework of development through the specification of safety requirements.
This standard defines new ways of developing, validating, and verifying software systems within the automotive industry, and systems and subsystem makers will require external support in order to embark efficiently and very rapidly into these new platforms.
CS Canada owns the know how to perform system and software development, Validation & Verification (V&V) and integration of safety critical system through the application of ISO 26262.
Perform the Functional Safety development – ISO 26262 Part 3

Hazard identification, risk assessment and ASIL determination
Development of the functional safety concept
Specification of the Functional Safety Requirements (FSR)

Perform the System Level development – ISO 26262 Part 4

Refinement of the functional safety concept into the technical safety concept
Safety Validation
Specification of the Technical Safety Requirements (TSR)

Perform the Software Level development – ISO 26262 Part 6

Disciplined specification, design, implementation and verification of real-time embedded software
Temporal/spatial partitioning (freedom from inference)
Specification of the Software Safety Requirements (SSR)

Efficiently setup and manage the safety activities

Organization definition of the required safety roles (safety managers and engineers)
Clear definition of responsibilities and interfaces along the life-cycle

Adapted proven methods and techniques from the verification of critical aerospace software for use in development of high ASIL automotive systems

Interaction with safety authorities and efficient means of compliance
Implementation of an organization structure to ensure independence
Requirement traceability and safety rationale justification (ARP-4754A)
Our customers within the automotive industry can implement ISO 26262 rapidly and efficiently, thanks to our support, and therefore insure that their systems will be safe, and that people's life within and around cars will be safeguarded.
To meet ISO 26262 challenges, CS Canada has assembled a highly skilled team with substantial experience in critical real-time software development and V&V. More specifically, this team has:
Provided system/safety expertise to automotive industry in the development of advanced driver assistance functionality for 7+ years
Adapted proven methods and techniques from the verification of critical aerospace software for use in development of high ASIL automotive systems
A capability to use advanced methods and tools (e.g., formal methods) to meet the challenges of increasingly complex software in automotive applications
Extensive experience with DO-178 certification of more than 30 airborne software programs
ISO 26262 Training &
TÜV-SÜD Certification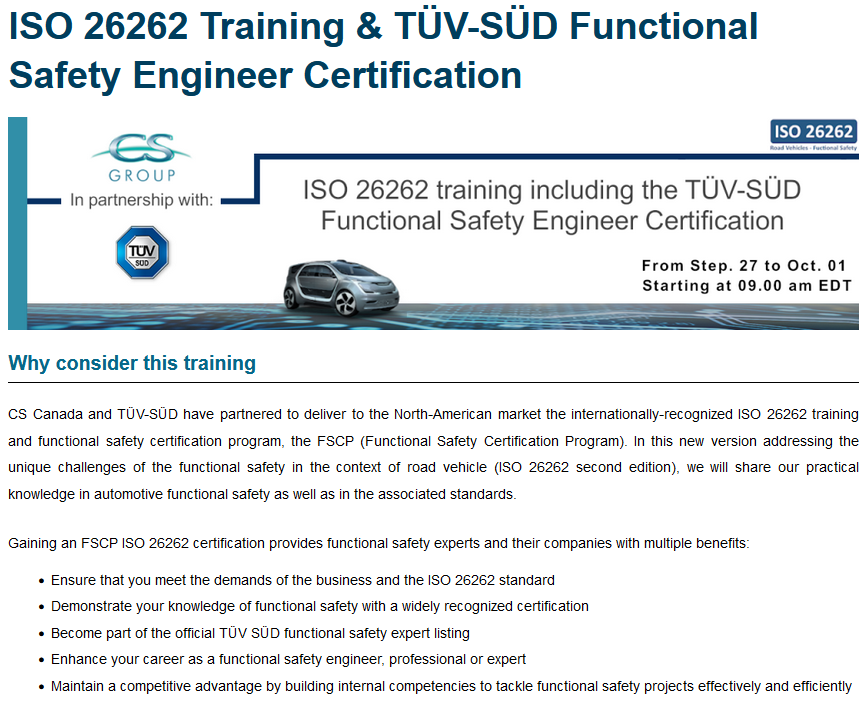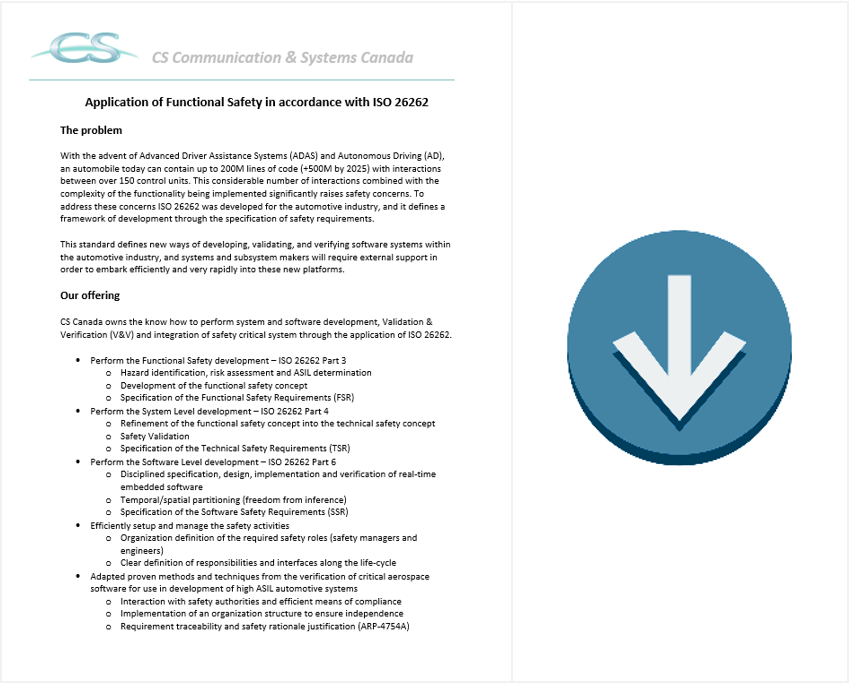 ISO 26262 Gap Analysis Brochure